3 versions of Strada-Sphere Radio!
1) The Strada-Sphere Radio Stream hosted by
SoundClick.com
. This is where it all started!Available 24 hrs a day and featuring uninterrupted Stick music from SoundClick Artists offered in both Hi Fi and Lo Fi.Click and listen now!
The Strada-Sphere Radio Stream
We just added more Stickists to the stream!
2) The Strada-Sphere Radio Podcast.a 30-45 (or more) minute show. Head on over to the
Strada-Sphere Radio Podcast Blog
to find out more.
3) Now we have a show in Spanish!
You can visit the
Podcasts Page
and listen to current and past shows using the inbedded Big Contact player,complete with show notes and links, or you can launch it in a seperate Pickle Player window using the button below.
Subscribe via
Apple's i-Tunes
by clicking on the i-Tunes window below.Your i-Tunes player will open to our subscription page at the i-Tunes Store.Click "Subscribe" and you're done!You can also click the "chicklet" below which will open a seperate window where you may choose from several subscription options (free,of course) including i-Tunes.Now you can have Strada-Sphere Radio on your i-Pod...
"Click the Chick"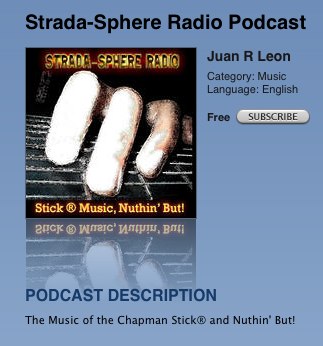 Join the Strada-Sphere Radio Listeners Group at Last.FM!
Scype the show!
We also would like to draw your attention to another Stick related show, the

Stick World Podcast

. Produced and hosted by Zak Winnik, the Stick World Podcast brings you news,reviews,music, and more from sunny Las Vegas.Please pay him an online visit and subscribe to his show today!
Strada-Sphere Radio needs your Stick music...
Strada-Sphere Radio wants to play your Stick music.Just send us an mp3 and permission allowing us to podcast your music on our show.

Send submissions to: